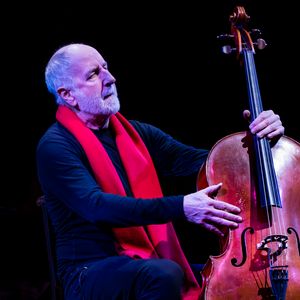 I had the enormous privilege of sitting down with Eugene Friesen for a little interview on a Monday evening, or rather a Monday afternoon where he was in Vermont, and evening for me in Berlin. It is a marvelous thing for two people to meet on two sides of the Atlantic Ocean, at two different times of day, in two different homes: and despite all of that, still share the same moment together. Pre-Pandemic I might have planned to meet with him somewhere in the Northeast USA while visiting there, and maybe the interview would not even have taken place if we couldn't coordinate a mutual meeting time and place. Though we both agreed that having moments with other people in-person is still preferable to digital meetings, this magic of technology really makes me feel like the world isn't quite so big anymore. 
I've known of Eugene Friesen as long as I can remember. He and my father, Claudio Jaffé, both studied at Yale University around the same time and have kept in touch since then. As I looked through some of Eugene's discography recently, I distinctly recognized "Canyon" that he played on with the Paul Winter Consort. My dad would put it on every so often when I was still quite young, and I remember him explaining to me that Eugene Friesen was pioneering in the direction he took with his cello: learning new styles of music and improvisation. Little did I know then that the direction I would eventually take would be much more similar to Eugene Friesen's than my father's or mother's career, who have both remained fairly traditionally classical in their musical performances. 
On Eugene's website, the short preview states that he is an "other / not classifiable artist from Boston". I found this quite fitting, as throughout our interview he always spoke in broader terms than just "cellist" or "musician" when he spoke about music. If you'd like to watch the video, just click on it here:
Interview with Eugene Friesen (Video)
For those of you who prefer to read, here is the full interview in transcript form. 
Natasha: And, here we go! Good, so: first question is, what is your name? Or your artist name, but in this case I know they are one and the same. 
Eugene: Yes, I go by Eugene Friesen. 
N: Wonderful. And where are you currently based? 
E: I am living out in Western Vermont, and it's very near the New York border, beautiful, beautiful 500 acre farm here that belongs to a friend of mine, so yeah, its very bucolic, very very lovely. 
N: Wonderful. And where do you come from? 
E: Well, I was raised up in California. (Nice!) My parents were Russian Mennonite immigrants, were both born in Russia and came to Canada as children, and then eventually immigrated to the US where I was born. 
N: Very very nice. So we'll move on to the cello questions. What's your earliest cello memory? Either first time you played, first time you saw it, any… what's your first cello memory? 
E: Well it wasn't that positive actually. I scored well on these kind of hearing tests in elementary school, you know, like I guess I was, what, 6 or 7 years old. And, so, my dad said, "You should choose an instrument, you could play an instrument. They're encouraging you to. What do you want to play?" And I kinda made the, like, trombone, you know, I went like this (mimics trombone playing). Because I'd seen them before, they're really shiny, and they're cool, you move your arm back and forth. And my dad just turned pale and said, "Here uh, just ask for a "cello" when you go there." And so I did that and they gave me this... thing. (N laughs). And I took it and blew on every possible hole that it has, but... 
N: Really? 
E: Anyway that was a long time ago. And since then I've grown to appreciate the cello. 
N: Yeah, yeah. You're so… I mean we have had a couple of people that I might be interviewing and that I did interview, David Floer is working as a professional cellist, but a few people might not be. You are a professional cellist, but how do you, how would you consider yourself to be primarily making your living? In terms of cello? 
E: Well, I've been in it for a long time, you know, and I've been very blessed to support myself and my family as a musician since I was 18 years old. So, I've been, you know teaching has always been an important part of my life, but then I've also done a lot of touring, road work, I played with an ensemble led by a saxophone player Paul Winter, and Paul Winter is a jazz musician with a real love for symphonic instruments. So he developed these ensembles that kind of had the mentality of jazz, but with oboe and English horn, cello, you know, sometimes he's had harp and flute in his ensembles. And we've really taken music from many many different world traditions and blended them into this kind of synthesis. So that's the Paul Winter Consort and I played with Paul for most of my career playing out. But I have other groups, and the last 20 years I've also been faculty of the Berklee College of Music in Boston, which I really really love. That, in addition to being very active in recording, recording on people's projects. I guess where I kind of planted my flag, Natasha, is in the realm of improvisational cello, because you're working with singers and songwriters, and lot of different contexts. Very often we're creating music where there's no written cello part, and those are my favorite, you know, things to do, because it calls forth what I can comfortably do on the cello and a lot of my interests in world music tend to come out when I do that. So, its a very rich life: teaching, performing, touring, recording. 
N: Very nice, mix of everything basically, pretty much. I took the improvisation course with you last summer that you offered, thanks to the pandemic, online. That was, that was also really a nice experience. Are you planning to do courses like that again? 
E: Yeah, yeah – we're developing some more courses, yes. (Sweet) I'm so glad you took that course. I was really honored because I'm a fan of your music too, Natasha, the stuff that you've done as a soloist and a composer, yeah very cool. I think its so great how many of us classically trained players are really rediscovering creativity and improvisation in a really elemental way. It's been gone from our tradition for 200 years and so (Yeah) its a pretty exciting time. 
N: No it is, it is really wonderful. And that is one of the things that I was really focusing on also with these blogs and this interview format is exactly this kind of corner of music, where we have these cellist-composers, which I think could almost be just blended with cellist improvisers who are creating new music now, today, or new arrangements of music we might already know. So that's kind of slipped us into my next question you know, what kind of music do you feel like that you compose and arrange? You have a lot of sheet music available on your website, there's also CDs: how would you characterize that music? 
E: Well sometimes I describe my stuff as just the product of, you know, years and years of wasted practice time (both laugh) because, you know, sometimes I'll sit down to practice one thing, and I get fascinated with one small element and just jamming on that and turning it into something completely different. So a lot of the music that I've birthed, has been really just the product of my curiosity and my affection for some sounds, some rhythmic feels, some chord progression you know that I've stumbled on over the years. But I think the most important thing, and we've kind of touched on it already, is really encouraging people's improvisational voice. I think that this, especially with the state of the planet right now, I think it's incredibly important. 
N: Yeah that we're all creating, yeah? 
E: Yeah and giving voice to, you know, musical messages that are really relevant at this time. (Yeah) That we're not just reawakening, you know, messages that were meant for a century or four earlier, as beautiful as that is, and as important as it is, especially for our training. (Absolutely) But to really give birth to what Jung called the "language of the present", you know, that kind of collective conscious idea. That there is a kind of a source of guidance, there's a source of information and storytelling below the conscious level. And we can access, you know with a certain kind of stillness and kind of musical preparation. So its exciting to see so many players value that and to really bring their own voices out in the music. 
N: I know, that's beautiful, that's beautiful. Its going to give me stuff to think about for days now. That's… yeah. What's your, if you had to choose one, what would be one of your favorite arrangements or compositions that you've done up to date? 
E: Well, something that happened to me earlier in my career, what's actually been really really formative to a lot of thinking, and continues to be relevant, and that is an experience I had in 1986. So, it was my first recording as a kind of a solo artist, and the producer, Paul Winter who I mentioned earlier, my band leader, was producing this record for us, set me up in a beautiful cathedral in New York, St. John the Divine (yeah), where we often play. And, you know its the middle of the night because its open to the public during the day, and I was there with the pianist Paul Halley, and we'd brought a bunch of sketches and things like that. But at one point Paul said, "You know, why don't you guys just try doing some noodling, just to loosen up a little bit?" In other words, improvising. And we did this; it sounded so amazing in the cathedral. And after about an hour, Paul came back on the headphones and said, "I think the record is done!" (Wow) And in fact, it did turn out to be a release of pieces that were all complete, free improvs that, you know, we didn't talk about any aspect of it. (Wow) And the very first piece on that record, which is called New Friend, is a piece called "First Ride". It was the first of our duos that really took flight. It just sounds like, you know like, like the untethered soul. 
N: Yeah, no, I've heard that, super energetic! 
E: You heard that? I think about that all the time. And just, what was going on there that it made us able to receive that amazing gift? I've thought about that my whole life. 
N: Yeah, I love the title, it really really kind of shows that kind of.. you were let loose, you were allowed to just (Right, exactly) unbridled joy, and flying… yeah, no it's really nice. It's beautiful. Both of you, just doing all the things you can. But its a really joyful piece, that was one of the things that I really enjoyed about it. You'd mentioned it in the course as well, so I went back and listened to it and I was like, ah, really nice, really nice feeling. 
First Ride (original)
E: That was a long time ago, you know, and since then I've integrated a lot of other musical styles, I have a lot more vocabulary in terms of improvising over chord changes and things like that, but still, the spirit of that, the spontaneity of it and the freedom of it is still kind of, you know, unmatched in my repertoire. 
N: Fantastic. Then, opening up to other repertoire, do you have a favorite piece specifically for cello or cello ensemble? 
E: You know, I mean yes, and you're Brazilian, Natasha, in your blood and so I'm sure you played the Villa-Lobos, the Bachianas Brasileiras (Yes) you know and I've been going to this cello festival in Brazil, probably been, I don't know 5 to 10 times, and we play that every year with a group of like 40 cellists. And that just remains to be the pinnacle of cello ensemble experience. (yeah) Its also informed my writing and I've done some arrangements for cello quartet. One is a piece by Dave Brubeck called Tritonis (OK) and he wrote for guitar and flute (Oh nice) and it moves around a lot, so it's very difficult for cello quartet. But its been played a number of times. And then I also have a quartet that I spent, I had a lot of fun writing called The Soul of the White Ant, which has some extended techniques that I love inside of it. Its about 17 minutes long. 
N: Very cool. Very cool. These extended techniques, I mean, that's I feel a direction that a lot of cellists are moving in to this lately, and that we're trying to kind of expand our horizons. I have a lot of colleagues who also like me were classically trained and even began their careers as classical musicians and who, in the last few years, I've noticed have been experimenting, oh well we can try a little improvisation, we can try some chopping, we can try some pizzicato techniques. And I feel that's, its a really wonderful thing to have composers now creating music and notating it, especially for cellists who are trying to make this shift in a new direction (right!) and yeah, thank you for that! Its always great to have these ways to learn these pieces. 
E: I always say to my students, "you are what you eat". Depending on what you like to listen to, you know, when you start making your own music that tends to really inform what you want to do. You know in my case I love listening to a lot of, like, field recordings from different parts of Africa, and even like children singing together in a kind of a rhythmic, you know, setting, and instruments like the mbira, the thumb piano and the kora, the African harp. These are things that have sounds and kind of rhythmic information in it that really makes me want to create something so I can share in that beauty somehow. 
N: Yeah. Yeah and you've, you've then essentially chosen to remain focused on the cello, right? I mean you, it remains your basic instrument. Do you feel like you can manage to get the spirit of these other sounds and other cultures through the instrument? Do you feel like…? 
E: Yeah, I mean actually during the pandemic I've spent so many hours with my looper (Yeah) building up layers of things and experimenting with how different rhythms work together and stuff with the looper. It's really really fun. But the other, the other kind of instrument that I've really come to appreciate is the string orchestra, because I have a, I direct an ensemble at Berklee Boston called the Berklee World Strings which is kind of a hand-picked group of string players from all over the world, many of whom are fantastic improvisers who are doing Celtic or Middle-eastern, Jazz of course, Gypsy jazz, Brazilian. A lot of people from all over the world. And we develop repertoire that really represents, you know, people's comfort zones as improvising soloists the best we can. And so every semester I write at least one original piece for that group and also arrange some folk music for that group too. (wow) So that, I feel like that's one of my instruments, is the string orchestra. 
N: Is the string orchestra! That's really cool. That was making me think like, then you were talking about earlier what you, "you are what you eat" in terms of also the music that you listen to, so I guess these young people are also being exposed to music of different cultures through your work and through that sort of work. 
E: And through each other's experience! 
N: Yeah that's true, yeah absolutely. We all have our own corner of the world we come from. 
E: Yeah, my student Kely Pinheiro, you know she's from Rio and she just is, just a natural expression of Brazilian music. It's what she's heard since she was an infant (yeah). And so, to be able to sit side by side with Kely and play this repertoire gives you an in to that style, that feel, that you can't (yeah) get in a book or listening to record. 
N: Yeah yeah, you need to be hanging out with someone (That's it!) and just enjoying the moment. What would be something that you feel like you really loved listening to, that you wish someone else would also "eat" essentially? (laugh) What would be another piece that you feel like a lot of people or a lot of cellists especially might want to listen to? And add to their musical repertoire? 
E: You know, I don't think I would point to anything specific, but just I think the bigger point is to be curious about this amazing world that we have access to right now, like never before (yeah, that's true). Like never before. And I think simply, one's curiosity will lead you to a sound, that'll ignite something in your imagination, you know, that opens your heart in a different way. And I think once we open our heart to those kind of sounds, we can't help but open our heart to the people who make those sounds too. You know it's so curious to me, and so interesting to me, when I hear something, you know, to be curious: how do, what do, how do these people get married? What do they do at their weddings? What do they do at their funerals, how do they celebrate birthdays? You know all of these holidays that they have? What do they eat? And I think all of those questions just make it more obvious how connected we all are. 
N: Yeah, yeah, I agree. I guess we find a lot of similar answers. I mean I've had the, sort of the privilege of coming from a multicultural background with my mother from Quebec and my father from Brazil and then I grew up in the United States and we were all there together. And now I've moved to Germany and I guess the one thing that really has resonated with me all through these, these different years is just how much culture is, is um.. you can learn through language and then through music. Then you get to know kind of the spirit of another group of people and the sorts of things that they find interesting and beautiful and wonderful, and then you realize that a lot of things you enjoy and you find also interesting and beautiful and wonderful, even though you had no idea they existed before. 
E: Right, that's right, you're a true citizen of the world. 
N: Yeah, well, its still all very, from a fairly narrow group of cultures, I mean you've had experiences with Middle-eastern and Asian cultures that I've not really had the chance to touch on yet. And also you were saying about different African countries and the music that you've been listening to. (Well that's right!). The field recordings. 
E: Because really our whole mindset I think has been completely blown out, maybe a better word is illuminated, by the kind of mindset of jazz. (Yeah) And its really true that jazz is such a kind of an African, Afrological stream of music you know, like rhythmically. And formalized too. The different kind of forms that are really much more conducive to improvising than a lot of the kind of through-composed forms from Western music. (Yeah) But the thing that Jazz has really taught us, is how rich our music can be if we really pick from a lot of different streams. (Yeah) Its kind of what we're talking about. And jazz has developed the techniques to really understand what the different streams are and how to quickly integrate them and to make your own sound using them. So I think we just owe a tremendous debt of gratitude to, you know Black musicians, Jazz musicians and its just changing everything. 
N: Yeah, that's lovely. Yeah so we just go out and learn, learn from each other. Just learn whatever we each have to say. 
E: I think that's how the world has always been, but now we find, we have the kind of enhanced, kind of permission somehow to do that. 
N: Yeah, that's true. We've all learned to inter-connect even more. Well then I'm going to slowly, slowly wrap this up and I wanted to, one of the things that I wanted to focus on is also the music that you have. Is there... you have a sheet music page on your website. Do you have a couple of suggestions of highlights from that sheet music page? I really like the Cello Man theme, that... 
E: Yeah yeah yeah, the CelloMan Blues. Yeah there's a lot there, there's, I've kind of invented/developed, better word, this kind of pizzicato techniques where I use a lot of left hand pizzicato and hammer-ons, stuff like that, in order to get very very active in various rhythmic feels. So, that stuff is there. A couple of, the piece I mentioned earlier The Soul of the White Ant is there in an arrangement for cello quartet as well as string orchestra. And another one of my favorite pieces called Maracaibo, which is a piece that was originally for the trio that I play with, Trio Globo with Howard Levy and Glen Velez (yeah), that's there in an arrangement for, I think for cello quintet as well as string orchestra. And string quartet. 
Maracaibo 
N: Very cool. Then where else should we look for you? I've already mentioned your website a few times, but there might be some other channels. Where can we find you and more about you? 
E: Well Spotify seems to be the easiest thing these days, you know, its so easy just to type a word in and just get a whole album or whatever you know. Eventually, I'm hoping we'll figure this out so that artists really get, get compensated for you know, their music and for those kind of performances. But it is a very very convenient way to get to know a lot of different music by different artists, so that's one option too. 
N: Alright, super. Anything else that you wanted to share with us before we wrap this up? 
E: Not at all. Its good to see you again Natasha! 
N: Wonderful to see you too! Well, I'm glad that you're doing well and thanks for being here with me today! 
E: My pleasure, thanks for your curiosity! 
N: Hope everybody enjoyed this. 
With that, our interview was over, but Eugene gave me a lot to think about. I'll leave you with a fantastic improvised performance of his:
Dances of Rasputin (American Variations on a Bartok Theme)
It is transcribed and available on his website for us all to learn.
Find more about Eugene Friesen here: https://eugenefriesenmusic.com/