Back in college, we had a weekly cello class. It took place in a large room on the ground floor, unfortunately windowless, that was otherwise used for rehearsals with mid-sized groups. Every Wednesday we would all gather around our cello lockers, the small hallway of cello-sized lockers where we could keep our instruments and other things, and walk over to the classroom in a large group. Some people might show up at the last second, running from a class or other commitment, and others would be almost late because they were trying to fit in a few last minutes of practice before they had to perform before their peers. Our cello teacher would come down from his office on the second floor, just before we were to begin. By that time, we would already have set up the room with a semi-circle of chairs facing the blackboard, and a single chair facing the other way in front of us – the place where the selected students would sit when performing, so that we could all see and hear them, with several meters of distance between us to simulate an actual stage.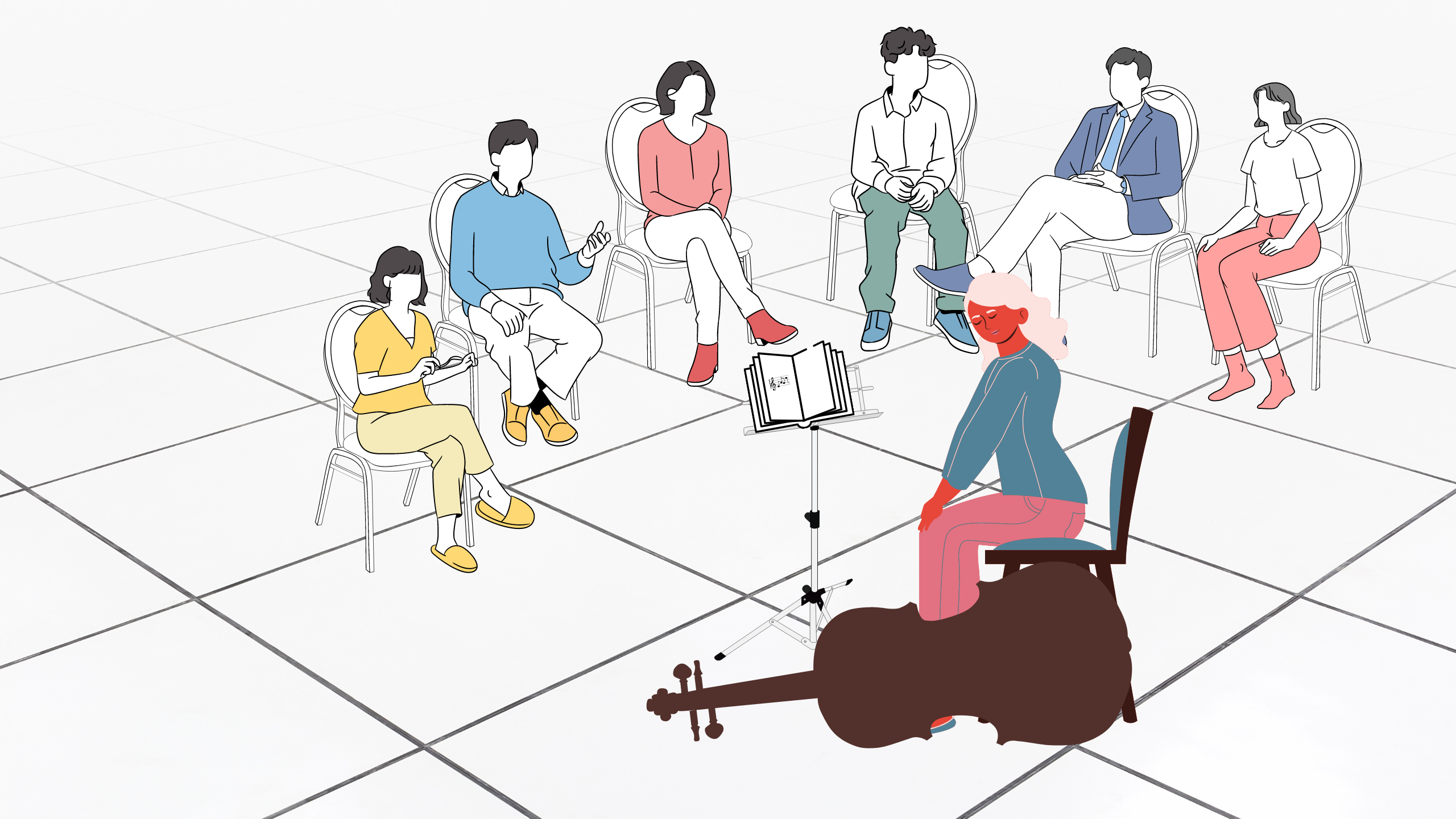 Cello class had several important functions. It was first and foremost the only time all of the cello students in the university would get together in a single room. It also served as a stage for us to perform pieces we were working on before we would play them at a recital or other formal concert, allowing us to get our jitters out. Cello class allowed our teacher to offer us some extra instruction outside of our private lessons. Most importantly though, cello class gave us the opportunity to comment on each others' playing and share our own difficulties, solutions, and experiences with different facets of cello technique and repertoire. 
I remember being incredibly nervous the first time I played in our weekly Wednesday cello class. I was one of just two or three freshmen cellists that year, which meant that nearly everyone in the room was unfamiliar and also older, which for me meant they surely played much better than I did and also were going to be checking out my skills to see how I matched up. The freshmen had to play during the first cello class -it was open to the others as well, but freshmen were required that one time to perform something. Being that it was within the first week of college and we were already overwhelmed with so many new experiences, it was hard to be really prepared. I played what I had played at my audition several months prior, a fast and showy piece I knew well, and somehow made it through without any major mistakes. Bracing myself for what would come next and remembering all of the little mistakes or out of tune notes I had made, I opened my eyes and saw, to my surprise, a room full of smiling, friendly faces. My cello peers were clapping, showing their approval, and my cello teacher alongside them! I immediately started to relax. On our first day, we didn't really get much constructive criticism or go into detail about what we could improve. Cello class on the first day for freshmen was meant to show us that cello class was a welcoming environment, where we should feel free to take risks and get feedback on them, learn from each other and support each other. While the level of detail and constructive criticism was definitely higher during the rest of the year, the atmosphere of respect, supportiveness, and kindness was there throughout my time there. 
During my first year I learned so much from my fellow cellists. I had come in to the first cello class thinking the only really valuable information would come from my teacher; he was of course the most experienced cellist in the room. However, he always made a point to first allow every single student in the class the opportunity to make comments before he would say anything, and then he would agree or disagree with what had been said by the students and maybe add something of his own to the mix. The focus remained on what we gained from our peers, though. The older students could already explain the finer points of certain techniques or alternate ways of playing specific passages, but even students who were at about the same level as I was were able to comment on my posture, on my musicality, on the effectiveness of my performance for someone watching and listening. Every single person had something to say. 
Crane Cellists play "Bittersweet" by Apocalyptica in 2008
In my second, third, and fourth years, I was always extra excited to join the first cello class of the year. There was the excitement of finally seeing everybody again, but mostly I was looking forward to watching the new freshmen experience what I had felt my first year. I felt proud to share what I knew with them, and to make them feel welcome and supported by all of us right from the start. I also was always able to learn something new from the freshmen students as they would always bring new ideas with them from wherever they came from. 
Cello class was a moment of connection, where we as students of cello would come together and discuss learning the cello. Starting with our experiences in cello class, we continued strengthening those bonds: we created a cello ensemble and played even more together, some students would get together individually to practice, so that they could help each other with specific skills or repertoire, and we also would meet after cello class for food or drinks, and talk about "normal" (non-cello) things like our classes and social lives. The bonds we formed then endure even until today, and just the thought of cello class back then brings a smile to my face today. 
2020 marked the 10-year anniversary of my Bachelor's graduation. During the many months of the pandemic, I sought connection with other people again, and what I remembered suddenly was our cello class. Our connection to each other through this one weekly class we all shared. I got back in touch with several of my classmates from back then and we created one of those Zoom-style videos of a piece we had performed back then and all of us reminisced on how much fun it was, looking back! Making the video was such a fun experience that we immediately made another one, with a couple of different people participating. 
Crane Cellists playing Farewell in 2021
That got me thinking, though. I teach privately and have never had much of an option to create a group class for my students – it requires quite a bit of space as well as commitment to come on a weekly basis. I know some teachers do manage to do it, but many of my colleagues also don't have a good group setting for their students to learn from each other. In the past year, I also started teaching more online than in-person, which means that my students wouldn't be able to come together for a group class anyway. But why not bring the class to them? Why not make it online? 
I've decided to start what I'm going to call the Open Cello Class, a Zoom meeting I will host once a month where cellists of all levels can come to learn from each other. It will be run just like my cello class was – three people will be pre-selected to perform, while the others can just hang back and listen. After each performance, the floor will be opened to all of those watching to make comments, suggestions, and provide constructive criticism. I'll function as the teacher for now, but perhaps in the future I can invite other cellists to be our featured teacher for the month. And since it should stay accessible, it won't cost much to watch, nor to participate. 
Unlike a masterclass, the focus won't be on getting wise words from one master. Each person who plays will get comments from peers – people who may have more or less experience than they do, and who will remark on what they see and hear. Also, there's no requirement to play a full movement or a full piece at near-performance readiness – people can bring in passages they are working on at a practice tempo still, and get help as well. Students who have teachers can get a different perspective on their performance. Students who don't have teachers can get some valuable insight into what they can focus on next. And outside of the Open Cello Class, much like at my university, I hope these learners of cello will get together and learn from each other individually as well. 
Join us at the next Open Cello Class! Happening once a month.