One of my missions for this blog is to bring more attention to the many cellist-composers and arrangers there are in the world. Many of us cellists end up teaching, either part-time or full-time, and so we end up with a small group of students we call "ours". Myself and many of my colleagues then get inspired to bring those students together and give them the opportunity to play together, so we look for arrangements or compositions that we could play. This is not always easy, because there is not a lot of repertoire for the cello ensemble to start with, and much of it is not made for mixed-level groups. So, many of us become arrangers or composers to make music that will fit to our purposes. I started arranging music in college, but others start much earlier, like my interviewee for today.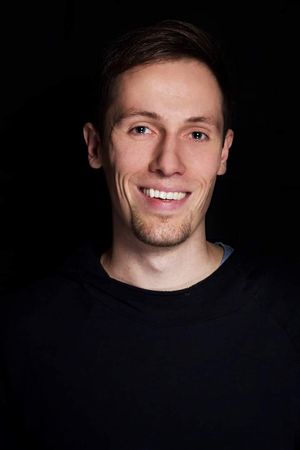 Let's get to know the cellist and composer as well as arranger David Floer, whom I met through a Facebook group for cellists. We quickly found that we had much in common! 
Natasha: What is your name? 
David: My name is David Floer.
N: Where do you live at the moment? And where do you come from? 
D: For the last 14 years, I live and work in Cologne. Originally I come from Marl, a city in the northern part of Nordrhein-Westphalen, which is mostly known for the Grimme-Preis (editor's note: this is a prestigious German television award). There used to be a well-known orchestra there as well, the Philharmonia Hungarica. 
N: What is your earliest cello memory? 
D: Honestly, my earliest cello-memory is a bass-memory. 
When we were introduced to various instruments in our school music education class, I really wanted to learn the string bass. However, it was explained to me that one should start with the cello, if one wants to learn the string bass. Looking back now, I suppose that the cello teacher had more free spots as the bass teacher. Thankfully! ;-) 
N: I'm also so glad! I always wanted to learn the cello, but for a couple of years my parents started a music school which was based on the Jaffé method, a method for learning string instruments in a group setting created by my grandfather the late Alberto Jaffé, and there my parents asked me and my sister to pick a new instrument so we could participate along with the other new students. I picked the bass and though I found it a bit unwieldy, I definitely would have chosen bass if I couldn't play the cello! It is a great instrument. 
Are you a professional cellist? What kind of cello education did you have? 
D: I wouldn't call myself a real professional cellist in the sense of someone who earns the majority of their income by playing the cello. I started cello lessons as a seven-year-old. After school, I studied Music Education with cello as my main instrument. Since then, I played and continue to play with various ensembles, orchestras, and bands. 
N: I started as a 7 year old as well – I had to beg for a year to get a cello. The university I attended was best known for its Music Education program, so many of my colleagues are music educators in the USA now. I also love mixing it up and playing with lots of different ensembles and bands! 
How do you earn your living? 
D: After my Music Education studies, I started my student teaching in Cologne and have continued working there since as the music teacher at a high school. Additionally, I am also a session cellist for various studio recording projects and perform live occasionally as well. For example, with Sofia Talvik's solo project, or rather our duo project HANSAN.
N: I had a listen to HANSAN – such beautiful music! I love the way you layer the cello voices in this project. Here is another one of our commonalities: I also recently joined a Scandinavian folk music group called Hälm, which is just instrumental but also deals with this special kind of music. I had never heard of it before then, but I fell in love with the harmonies and melodies in this kind of music. I hope HANSAN releases more music soon, and that we can see you live once concerts are possible again! 
What kind of music do you compose or arrange? 
D: When I first started composition studies as a 15-year-old, I went pretty wild with compositional styles and tried my hand at everything from Baroque and Classical styles to modern music. During that period, I even composed an extensive part of an opera. The recurring theme was that in most of my compositions one or more cellos were present. Through my collaborations with various artists as a session cellist, I now arrange mostly three- to four-voice cello accompaniments for songs in every possible genre. 
N: Wow, that is super impressive! A proper composer then. I only came to composing as a college student as well, and even then, it wasn't until 2019 that I entertained the idea that my compositions could be interesting for anyone really. I love that you ended up having the theme of multiple cellos and that you have really built on that. This might be a good moment to mention that you offer remote recording sessions for all sorts of projects with your rich arrangements, more information can be found on your website here: https://deincello.de/ 
What inspired you to make your first composition or arrangement? 
D: I grew up in a family of musicians, which meant that I was always surrounded by live music. It was actually the film Amadeus, which I saw when I was twelve for the first time, which awoke my interest in becoming a composer and inspired me to create my first compositions. In a sense, maybe that makes Mozart responsible for my becoming the musician I am today. 
N: Amadeus was a movie that marked me as well. I find it fascinating that Mozart, who didn't really write anything for solo cello (some fragments, but never a full sonata or concerto), ended up being the catalyst for your composition career. He is such an inspiring and brilliant composer though, so I also completely understand! 
What is your favorite composition or arrangement that you have made for cello? 
D: I think my favorite composition so far is my second Heavy Metal Sonata for 2 Cellos, even if the second movement is actually quite Romantic and not so much Rock. Together the three movements, I find, make a successful whole, from lots of movement to peace and all the way to storminess in the last movement. From a playing perspective the piece is challenging, but not absurdly difficult. I definitely have fun every time it lands back on my music stand after a long break.
N: So far the Heavy Metal Sonata is also my favorite! I love the mix of the heavy metal and the romantic, and the fact that it is even called a Sonata is perfect for me. I believe we share a similar love of mixing great classical music with great modern and non-classical music, finding a balance between the two genres in the hopes of making just "good" music we like to play and listen to. 
What is your favorite piece of music for cello or cello ensemble? 
D: My absolute favorite piece for cello is the Ricercare by the Canadian cellist Raphael Weinroth-Browne.
I still don't understand why the video has so few clicks. Through the alternate tuning of the strings and the mix of oriental sounds and rock riffs, Browne really created a virtuosic masterpiece! 
N: This blew me away as well, and I became an instant fan. I've definitely added to the number of clicks now! Incredible how he blends the different styles and the electronics together so perfectly. Fabulous cellist and interpreter. Thank you so much for introducing him to me – I can't believe I hadn't heard of him before! 
What is your all-time favorite piece of music? 
D: I don't really have one single favorite piece of music, because my top favorites list keep changing, but the album 900 Miles by Bethany & Rufus continues since years to inspire me to experiment with my cello and to create multilayered cello accompaniments. https://soundcloud.com/bethanyyarrowmusic/sets/900-miles-ok 
What I love to play over and over again is a purely pizzicato piece by Rufus Cappadocia, titled Forgiveness. This piece even motivated me to commission a five-stringed cello by Willi Balsereit (Diastrad). https://www.discogs.com/de/Rufus-Cappadocia-Songs-For-Cello/release/8990646 
N: Once again you introduced me to some new musical projects! I had heard of Rufus Cappadocia before, also because he is a featured composer in Mike Block's collection of etudes "Contemporary Cello Etudes". However I had never taken the next step to listen to some of his solo music and didn't even know his project Bethany & Rufus, what a beautiful ensemble as well. 
And how cool that you have a 5-string cello! I've also dreamed of owning one but haven't yet taken that step. I'm still exploring the sound of the 4-string cello I guess ;) 
Who are your musical role models? 
D: The two cellists I mentioned earlier are very high up on my role model list: Raphael Weinroth-Browne and Rufus Cappadocia. Both of them are, in their own way, unbelievably creative and include tasteful, multilayered cello arrangements in their compositions. 
N: Wonderful role models. I'm considering having them as my role models as well! Up until now I've looked up to my parents Johanne Perron and Claudio Jaffé, Yo-Yo Ma (specifically for his classical crossover and Silk Road Project music), Eugene Friesen, and Zoë Keating – the list keeps growing. 
Which piece or arrangement of yours would you like to feature especially here, and why? 
D: I have published two Heavy Metal Sonatas für 2 Cellos, and would imagine, that there are many cellists who would be interested in both of those pieces. The first sonata, Organum, dates from back when I was in school and is strongly influenced by Apocalyptica. During an orchestra rehearsal weekend, I decided to write a Rock piece for two cellos to play with a cellist friend at the school concert. To that end, the first and third movements were composed within three days. After that, the piece sat in a drawer for more than 10 years before I decided to publish it. My motivation renewed with the first publication, I immediately wrote the second sonata Cantus. Both works are quite traditionally written in the Sonata form, but they include heavy metal music cliches as well as quarter-tones and polyrhythms that one finds in modern music.
N: This is such a great story and so typical I think of cellist-composers: you didn't find the music you were looking to play so you just made your own. So glad you pulled it back out after those ten years and shared it with us, and were inspired to make even more! 
Should we also look for some of your other pieces? Where would we find them? 
D: During the start of the pandemic last year I composed an 8-minute piece for eight cellos, titled Lament, which is available on the shop of this website. I am also currently working on short solo pieces for cello, which I hope to publish this year. 
N: I'm proud and honored to offer Lament – thank you for sharing it here. It is a really beautiful piece with rich harmonies, lovely use of harmonics, and the full range of the cello. Look forward to your short solo pieces as well! 
Where can we find out more about you? 
D: If you'd like to find out more about me, you are welcome to visit my website www.deincello.de. There, I primarily offer studio recordings as a session cellist, but I also include news about my sheet music releases and some insights into my other musical projects. I look forward to your visit! 
N: Thank you so much David! It was a pleasure getting to know you and I look forward to playing and hearing more of your compositions. 
You can find David's Lament on my sheet music page and stay tuned for more interviews and new compositions to come!